Mountain biking on Terschelling
Mountain biking on Terschelling
As a mountain biker on Terschelling you will enjoy surprisingly steep climbs over forest and dune paths. Once on the North Sea beach, the wind often challenges you. Our MTB-loving guests are unanimously enthusiastic about the diversity of mountain bike routes on Terschelling. You can bring your own mountain bike, and there are also plenty of bike rental companies that rent MTB and ATB bikes.
Terschelling Recreatie has selected two mountain bike routes for you. From holiday park Tjermelân and holiday park De Riesen, the mountain bike adventure starts right in front of your holiday home or hotel apartment. You do not therefore have to limit yourself to these routes, mountain biking is possible (almost) everywhere! For the real die-hards, there is the Noordsvaarder Cross Country tour at the beginning of March.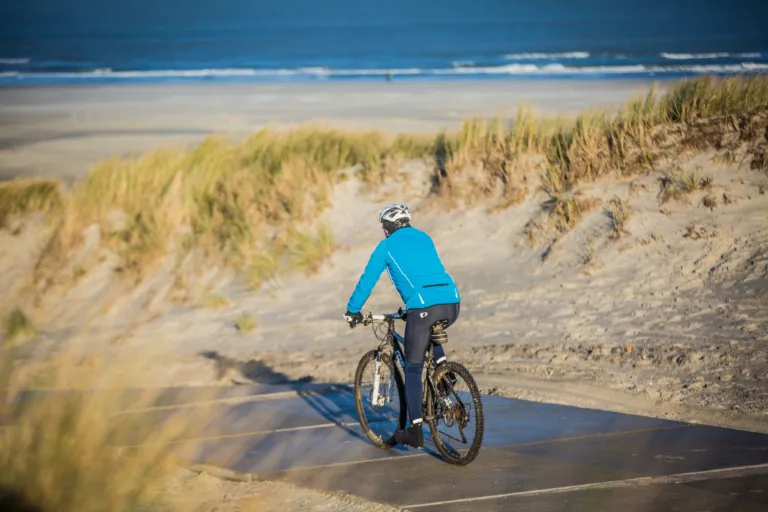 The link sends you to another website. Tip: Save the links and immediately book your mountain bike or all-terrain bike holiday on Terschelling.
Terschelling Recreatie has a wide range of holiday homes and bungalows in two parks, the ideal base for a discovery of our beautiful island. There are holiday houses and hotel apartments for 2 to 8 people. After you have booked and received the confirmation, you can reserve a bicycle of your choice. The bike is ready at the park or on arrival of your boat to the island. Terschelling is the ideal destination for sporty cyclists.
Select the accommodation that suits you or your situation according to your preferences. Book a stay on Terschelling. Terschelling Recreatie is the holiday address for a carefree mountain bike holiday.